A long, long life, for starters!


Remember that number we mentioned?

The extreme testing Huebsch washing machines are submitted to verifies that each model can run a minimum of 10,400 cycles of laundry over its lifetime. For a typical household that washes 8 loads per week on average, that could translate into 25 years of use. (If you're curious, that's two to three times longer than other brands.)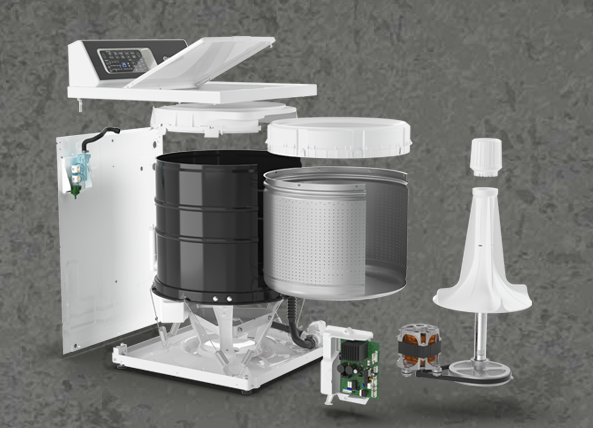 And great time efficiency, for another. To commercial clients, time is money. So Huebsch cycles are particularly time efficient

A Huebsch TR5 on its Heavy Duty Cycle is 20.7% times faster than a competing model on its equivalent setting


Huebsch warranties are a deal of the decade!


For a limited time offer Huebsch is offering on all products a 10-year warranty. This covers all parts and in-home labour. Act fast before this offer expires. Offer valid October 1 through December 31, 2019.

Whenever you see excellent warranties like these, it's fair to say that the manufacturer is confident that their products are genuinely durable.

In Huebsch's case, that confidence is based in part on the quality of the materials they use.

. . .thanks in part to the industrial grade metal used to make them.

To take in a Huebsch's genuine old school beauty, you need to look under the hood, so to speak. Reps at any Huebsch dealer can help you with that.

When the rep lifts off the front panel on a floor model, you'll see that every component is made from commercial grade metal. You won't find any of the breakable plastic parts that are commonly used in in other laundry appliances on the market today.

What difference does this make?

For one thing, metal parts don't break. Need we say more?

Actually, yes, we do. Because the austenitic stainless steel used in Huebsch wash tubs is also extremely resistant to rust and corrosion.

The austenitic stainless steel Huebsch wash tubs are made from is 1.5 times more expensive than the steel used in other tubs. But the warranties covering those other machines typically cover only one year – after which you could find yourself on the line for a $300 replacement tub. Contrast that with Huebsch's austenitic stainless steel tubs, which are guaranteed to remain rust and corrosion free for life and you've got a bit more insight into the popularity of these models.